2

The Data Analysis Cycle

Data analyses can be performed in so many different forms depending on the types of data, the goals and purposes of the analysis, the applied methodologies, the available resources (e.g. human, technical, computational, financial, time), the audience, and the scope, just to mention a few aspects influencing a Data Analysis Project or DAP.

While it is true that you can carry out a DAP in various ways, at different levels of complexity, and with one or more goals in mind, you will usually find that a standard analysis will have the following elements:
data collection (acquisition)
data cleaning
data tidying
exploratory data analysis
confirmatory data analysis
data visualization
model building
simulations
communication
2.1

Understanding the Data Analysis Process

Cartoonist and roboticist Jorge Cham captures the essential stages of a typical data analysis in the following comic strip

https://phdcomics.com/comics/archive_print.php?comicid=462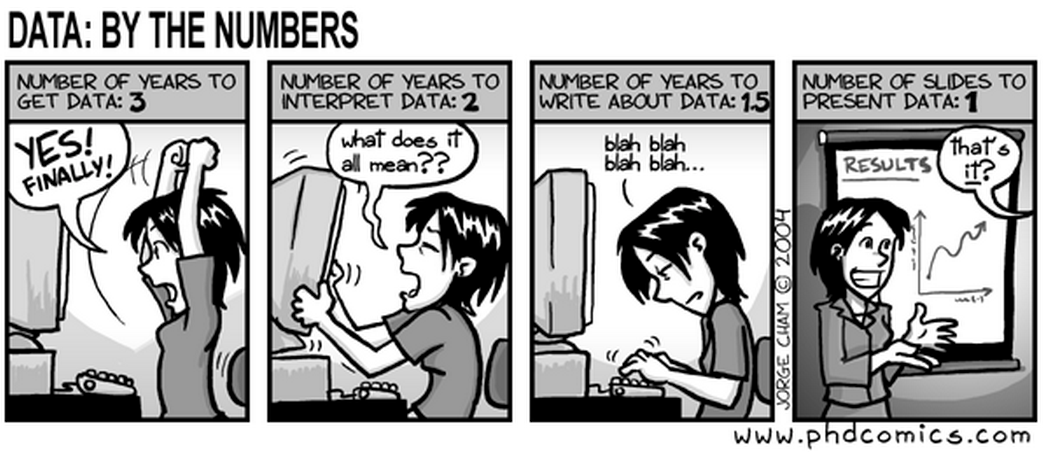 Jorge's illustration is one of our favorite cartoons. If you can, print a copy and keep it in your desk (or fridge, or your office door) as a reminder of the stages every data analysis project goes through. The cartoon contains four frames, each one illustrating the main stages of what traditionally happens in research projects, heavily based on data analysis, within academia (e.g. PhD project). But it can also be generalized to most real life contexts.
Each frame in the cartoon is associated with a set of general tasks:
| Preparation | Analysis | Report | Communication |
| --- | --- | --- | --- |
| Acquisition | Exploration | Document(s) | Talk |
| Storage | Description | Article(s) | Seminar |
| Cleaning | Visualization | Slides | Lecture |
| Processing | Hypothesis Testing | Blog post(s) | Conference |
| Tidying | Simulations | Dissertation | Interview |
| Reshaping | Model fitting | Book(s) | Other |
At a more conceptual level, and losing Cham's comic enchanment, we have created our own diagram of the Data Analysis Cycle (DAC), depicting what we consider to be the three main stages of such cycle:
In our DAC diagram, we have merged the Report and the Communication frames into a single entity because these two tasks always go together.
Each circle is associated with a set of general tasks. Not all projects will have all these tasks. But in this way you can have a conceptual picture in which to fit almost any DAP:
The Data Preparation frame has to do with tasks that involve acquiring data, storage, cleaning, processing, reshaping, and tidying. The Core Analyses frame usually implies exploratory data analysis, descriptive summaries, data visualization, maybe testing hypothesis, running simulations, and building models. The Report and Communication frame, in turn, has to do with writing an assortment of documents, articles, slides, blog post, some times a books, a dissertation, or a generic manuscript. Finally, the Communication frame is the part of the project where you share the insights of your analysis with a certain audience. This usually takes the form of a talk, a seminar, a guest lecture, being interviewed, or other kind of communication action. The table below groups the typical tasks of each component.
2.1.1

Data Analysis is a lot like Cooking

We also like to compare a data analysis project and its cycle with cooking. Using the cooking metaphor, data preparation is like when you go to the grocery store or the farmers market to buy all the food and ingredients for your meals. This part also involves washing, pealing, letting dry, slicing, dicing, cutting, and performing all those small steps that are fundamental for a good result. Part of this data preparation also involves the "mise-en-place"; everything in its place: the set up required before cooking, involving organizing and arranging the ingredients and the utensils.

Then comes the actual cooking. This is perhaps the most "glamorous part" of any
cooking activity. You get to use the various utensils like the mixer, the stove, different pans, the oven; you also get to roast, fry, sauté, boil simmer, etc.

Once the food is ready, you need to prepare the dishes, set the table, decorate the plates, make sure the serving temperature is appropriate, and so on.